Genuine Texas Exteriors     Serving All Of Central Texas




After spending years working for some of the largest contractors in the country, we aim to challenge the industry "standards." Genuine Texas Exteriors believes that a local, family-owned company can offer superior quality and service compared to the "big guys" at a fraction of the cost.
Our roots are in Central Texas, and we keep our eyes and hearts close to home—no chasing storms or a quick buck. With a lifetime guarantee on everything we do, we will be here for you before, during, and most importantly, after the job is complete!
Free Consultation
The first step of our process is a free consultation. As your Hill Country neighbors, we believe you deserve transparency.
When working with highly skilled contractors, it's important to ensure that they know your particular needs and that you are fully aware of the options available to you.
Pre-install Inspection
After committing to use Genuine Texas Exteriors for roofing, siding, gutters, or windows, it is imperative that we develop a game plan for installation. We always schedule a pre-install walkthrough with the homeowner to make sure minor concerns don't turn into larger issues. We are here to repair and prevent leaks, holes, cracks, and all other home-improvement concerns.
Begin the Work
Our installation experts will then work on your project in the most efficient way possible.
We'll make it a point to clear up the mess every day, so it doesn't become an issue for the neighbors. Your house will be the talk of the neighborhood in no time.
Final Walkthrough
Quality assurance
Representative checks every aspect of  your installation to make sure we kept all of our promises. Only once the final inspection is complete do we accept payment.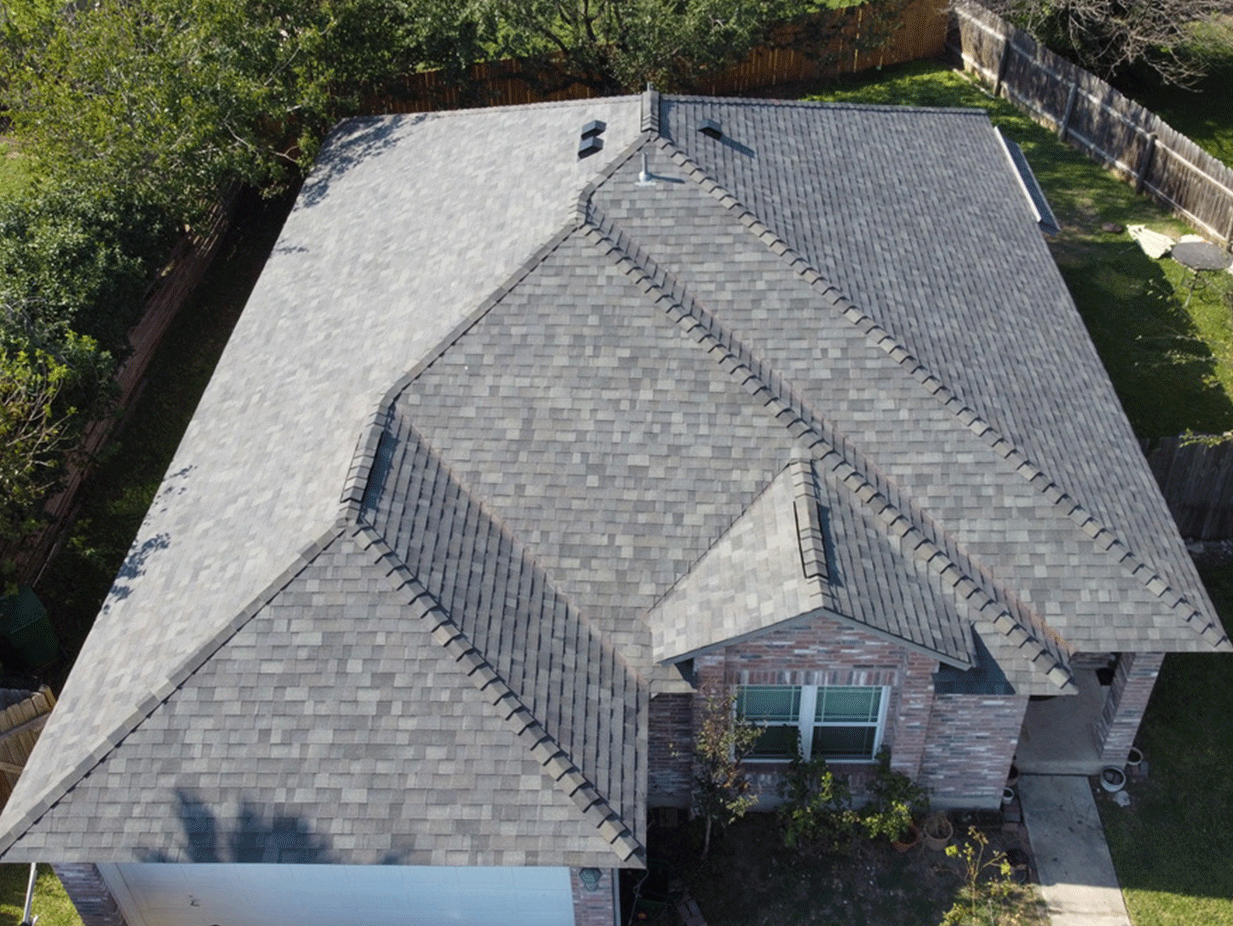 Hear what our happy customers have to say.
Genuine Texas Exteriors did a fantastic job replacing my roof. Michael was very professional and a breeze to work with from start to finish. I got quotes from 4 other roofing companies, and Michael was the only one who actually sat down with me and went over the details of the installation process and materials they'd be using. The Malarkey system they use is highly rated, and he made me feel comfortable that I was getting a top quality roof at a great price. The whole process was quick and painless, and the results are great!
– Ryan Palko
Very happy with the whole experience from beginning to end. Michael did a great job at explaining everything about the materials they would use and the process without being pushy. After his presentation, he gave me information to review and think about it and didn't bother me. He only called me a couple of times to follow up. He was available to answer any question I had and he was very understanding if I changed my mind. I took about 2 months to make a decision and didn't once feel pressured. I talked to several other roofing companies previously and the prices were either outrageous, they were really pushy, or needed money up front. Genuine Texas Exteriors prices are fair, so I am very happy that I chose them. They completed the work on the date we agreed on and it was all a very seamless process that was completed in one day. The guys who did the work did a great job. They were on time, worked quickly and were professional at all times. Michael did a final walk through with me to make sure I didn't have any concerns and was happy with the end result. Needless to say, I am one happy customer.
– Laura C
Michael and the team at Genuine Texas Exteriors took the time to understand my needs, personally inspect my roof and our attic, and provide options. Ultimately, I chose the team for the peace of mind they provided to me and my family. Michael personally communicated timelines and process, and after the roof installation walked our property with me and his foreman, Stephen.
When our roof needed more decking replaced than anticipated in the quote provided, the team didn't hesitate to get materials and refused to charge me anything above the quoted price.
I would recommend the Genuine Texas Roofing team to anyone that needs a new roof or safe opinion.
– Jonathan Meneses
Tanner was awesome! He went above and beyond and kept an open line of communication. The work was completed quickly and the roof came out great. It's refreshing to know he was a man of his word and very responsive. I'll definitely be using them on our next home in the future and telling friends in need about Genuine Texas Exteriors.
– JUSTIN TAYLOR
After obtaining several quotes, I found Michael to be the most thorough at explaining what needed to be done and presenting the necessary materials and options. His crew was on time and completed the roof replacement quickly and efficiently, and the entire process was professional and simple. The time frame for the work was more than reasonable, and the pricing was fair and competitive. I would highly recommend!
– Sarah Stollak